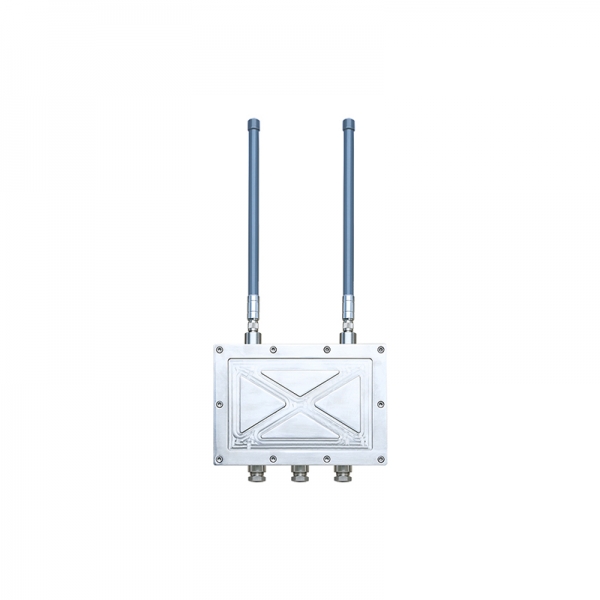 Description
The MX834-1D explosion-proof base station adopts industrial-grade material, design and technology to ensure its communication under extreme conditions and strong interference. It is an IoT gateway device that supports multiple Internet access (Ethernet/WIFI client/4G/5G/NBIoT), and multiple local data access (5G/1000M Ethernet) full-stack intelligent protocols.
The device is loaded with WAN communication, VPN tunnel, WIFL LAN and other functions, and provides customers with open source codes adapted to various devices to realize the seamless connection of wireless LAN, Ethernet, intelligent hardware and wireless WAN, providing intelligent manufacturing, warehousing and logistics, transportation, electric power and other industries to provide professional wireless communications.
MX834-1D explosion-proof base station adopts high-performance industrial-grade MIPS processor, with the embedded operating system as the software support platform, it integrates a full range of communication protocols from logical link layer to the application layer and supports VPN (PPTP, L2TP) IPTABLE Firewall, static and dynamic routing, PPPOE, DHCP Server and DHCP ClientDMZ host, WEB configuration, support APN/VPDN, etc.
It supports automatic dial-up after power-on, automatic maintenance of communication links, and hardware-level watchdog WDT protection to ensure that the device is always online.
Features
Intelligent anti-offline, support online detection, online maintenance, and automatic redialing when disconnected, to ensure that the device is online for a long time
Support network link backup, seamlessly switch to the wireless network when wired disconnection, and can automatically detect wired recovery
Cloud remote platform management, remote upgrade and remote configuration
Support VPN security tunnel function, including PPTP, L2TP
Support 4G wireless client, wireless AP function [optional]
Complete router functions support multiple Internet access methods: dynamic IP, static IP, PPPoE
Support IPTABLES firewall, security network protocol
Support dynamic DDNS: support DynDNS and other domain name service providers
Convenient and easy-to-use CONSOLE and SYSLOG system diagnosis and debugging functions
Support serial port local TFTP, web software upgrade
Explosion-proof grade: Ex dⅡB T6 Gb/Ex tD A21 IP68 T80℃
Industrial-grade power supply: wide-voltage power supply design, the power supply range is DC6-36V/3A optional, built-in power reverse protection
Professional-grade MIPS_880Mhz dual-core high-performance embedded processor; with 32KB D-Cache, cache data, high-speed data access; with 64 KB I-Cache, high-speed instruction cache, strengthen instruction processing speed
Industrial-grade wireless CPE: using industrial-grade wireless modules, strong anti-interference, stable transmission
Produced with high-standard industrial-grade components
UIM/SIM card ESD protection: 8V/3V standard push rod user card interface, built-in 15KV ESD protection
Independent hardware watchdog, effectively guarantee the stable operation of the system