8-Port Serial Device Server
◆Auto-detecting 10/100 Mbps Ethernet
◆Built-in 15 KV ESD protection for all serial signals.
◆Supports various operation mode: COM port redirector (Virtual COM port).
◆Versatile socket operation modes: TCP Server, TCP Client, UDP, and Ethernet Modem
◆Supports multi-access features: allows maximum of six hosts to access one serial port simultaneously
◆Support to auto recovery after power and network break
◆Support to monitor the status.It can monitor the each orifice receives and dispatches through the website
◆Pair Connection mode for connecting two serial devices over a network without a PC
◆Supports DNS(TCP Client Only)
◆Supports SNMP MIB-II for network management
◆Configuration via web/Telnet/serial console
◆The network of the enhancement installs setup and IP/MAC to filter rule and assure your arrangement and network stability
◆Provide a convenient firmware to upgrade, assure to continuously promote product performance and reliability
◆ One second quick start
Product Description
MX3280 serial device server (brief name: serial device server) is the independent development networking product of our company about RS-232/485/422 serial orifice terminal equipment.
The MX3280 series product adopts 32bit ARM MCU and combines efficiently embedded system and make equipment run more safe and stable.
The MX3280 series serial device server none needs heavy investment to replace or upgrade.
It can let the original RS-232/485/422 serial industry control equipment immediately have a network to unite capability with each other, provide efficient, safe, stable data gateway for the serial orifice data information.
The MX3280 series product was applied to communication and control realm extensively, such as electric power supervision, engine room supervision, PLC, intelligence electric meter, gas meter and biological recognition device and reader...etc.,
It is the connectivity bridge between serial orifice equipment and TCP/IP Ether network.
Specifications
LAN
Ethernet: 10/100 Mbps auto sensing
No. of Ports:8
Port Connector: RJ45 with Action, Link indicator light
Protection: Built-in 1.5 KV magnetic isolation
Serial Interface
Interface:8-port RS-232/422/485(software selectable)
Port Type:Male DB9 or Terminal
RS-232 Signals:TXD, RXD, RTS, CTS, DTR, DSR,
DCD, GND
RS-422 Signals:TX+, TX-, RX+, RX-, GND
RS-485 Signals:RS485+, RS485-, GND
Protection: 400W TVS protection
Serial Communication Parameters:
Parity:None, Even, Odd, Space, Mark
Software Features
Protocols: DHCP,Telnet,TCP,UDP,IP,ICMP, APR,SNMP,HTTP,SYSLOG
OS Drivers Support:Real COM drivers for Windows
Windows 2000/XP/WIN7/WINNT
Configurations:Web interface, Windows utility, Telnet console
Power Requirements
Power Input:9-40 VDC
Power Consumption:0.18A@12V
Mechanical
Material:Aluminum or Galvanized steel
Operation Temperature:-10-60˚C
Storage Temperature:5-95˚C
Operating Humidity:5-95%RH
Warranty:2 years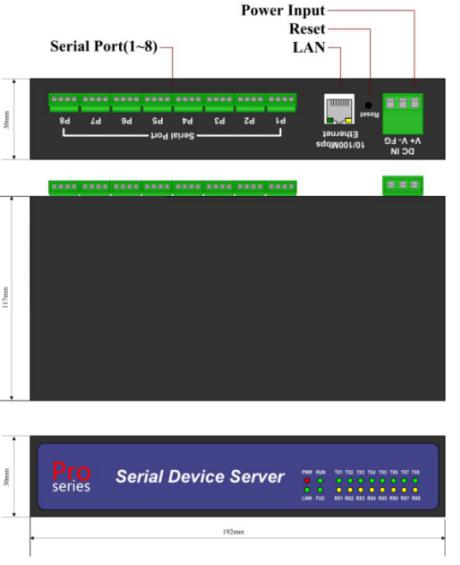 Model
| | | |
| --- | --- | --- |
| Model Number | Description | Power |
| MX3280DT-A | 8-port RS-232 Rack-mount Serial Device Servers | DC 9-40V |
| MX3280DT-C | 8-port RS-232/422/485 Desktop Serial Device | DC 9-40V |
| MX3280DT-AB | 8-port RS-232/485 Desktop Serial Device | DC 9-40V |
| MX3280J-A-DL | 8-port RS-232 Rack-mount Serial Device Servers, 2×10M/100M | DC 9-40V |